| | |
| --- | --- |
| Posted on July 12, 2013 at 9:45 AM | |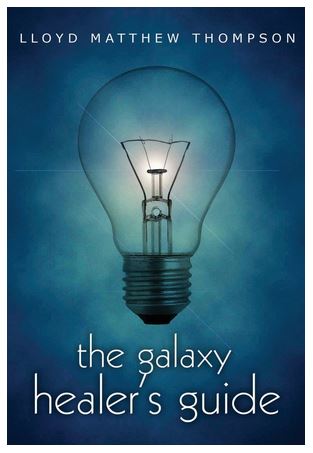 In this day and age of spiritual evolution, energy work is more important than ever because we're more conscious of how everything is energy. And thankfully, you don't need to be a professional healer, long-time energy expert, or devoted metaphysical guru to understand and work with your personal energy in the best and highest possible ways. {Which is why I'm excited to share this book with you!}

The Galaxy Healer's Guide by Lloyd Matthew Thompson is an awesome guide for understanding how we are each brilliant, Divine expressions of Source energy with unlimited potential - and what to do about it. It's not complicated (phew!) but it is important. We are each responsible for our own energy like never before and this guide has a ton of great insights, like....

- How energy "works" and basic understandings to be aware of

- How to practice and get familiar with the energy techniques that are best for you
- Essentials about honoring Self, respecting energy, trusting Self

- Connections to chakra points as energy sources
- Empowering insights about being your own healer

- Expert tips, methods to explore, ways to practice and gain confidence
- And more, more, more that I don't want to give away here.

In addition to all of these wise points, Lloyd writes with a supportive, encouraging tone that reinforces how everyone can work with energy and design techniques that work for them. Once you know the essentials and practice with your energy more regularly, you open up to greater understandings about you and your connection to the galaxy. Tres cool, non?

I'm always excited to find other like-minded souls, so if you're curious, The Galaxy Healer's Guide is on Amazon as an eBook or paperback. It's fitting for the novice, master, student, and anyone in between who wishes to connect with greater cosmic power.

Lloyd is a very busy man, and has also written other books about each chakra point: Root, Sacral, and Solar, plus The Energy Anthology, Volume One which includes these three titles in one book.
Say hello to Lloyd Matthew Thompson!

"I have been an intuitive reader, healer and teacher since 2002, as well as a life-long artist and writer.
I was raised in a strict religious household, the oldest of nine children, and I have since explored, experienced, and been shaped by many other pathways, including Buddhism, Shamanism, Paganism, and New Age. Whether writing, painting, drawing or teaching, reflections of all these can be found in my work.
I have written for various metaphysical and holistic blogs and magazines, both locally and globally. I'm the author of The Galaxy Healer's Guide, and am presently working on a fiction series based on the chakras entitled The Energy Anthology— of which the first two books, ROOT and SACRAL, are now available— and my next nonfiction work, entitled Lightworker: A Call to Authenticity.
In keeping close to my Heart, my main focus for Starfield Press is to publish spiritual, metaphysical, holistic, and thought-provoking/growth-inspiring material that will edify the Soul with both fiction and nonfiction!
I currently live in Oklahoma City, Oklahoma, with my wife, triplets, daughter who thinks she is a cat, and cat who thinks she is a daughter."
Categories: Conscious Books, Conscious Messages